C-V2X Testing with WaveJudge 5000
The WaveJudge 5000 wireless test and measurement system is an essential, timesaving tool for cellular vehicle-to-everything (C-V2X) development and testing
Created by Sanjole, a recognized leader in wireless testing, the WaveJudge efficiently reveals insights needed to troubleshoot and accelerate solid implementation of 3GPP Release 14 PC-5 based vehicle peer-to-peer communications between LTE user equipment. The proven breadth and depth of the WaveJudge facilitates adoption of the latest 3GPP technologies with greater ease and speed, thereby allowing automotive players to stride into successful commercialization of C-V2X innovations and products.
Test Application Examples
The WaveJudge 5000 combined with LTE Release 14 software package can verify physical layer attributes of C-V2X and ultimately data transmission over the PC5 interface.
Test Ultra-low latency to ensure the time-critical information is transferred well in advance of dangerous situations
Compare the efficiencies of distributed vs eNB scheduling over the PC5 and Uu interface
Evaluate current detection technologies on cameras or radar and verify detection within a line or radius of detection
Enable better accident-prevention capabilities by verifying the on-board detection system in a car
Verify the messages used to broadcast hidden potential traffic hazards
Check lower latency related to minimizing the time for sending critical messages from one car to the other
Ensure proper testing for processing speed, power and data volume which are increasing with each new design cycle
For cellular V2X
Test each channel, measure each connection's accessibility, latency, message decodes, and overall performance
Troubleshoot C-V2X Direct Communications (PC5) Mode 4 (out-ofnetwork coverage) capable devices as defined in 3GPP Release 14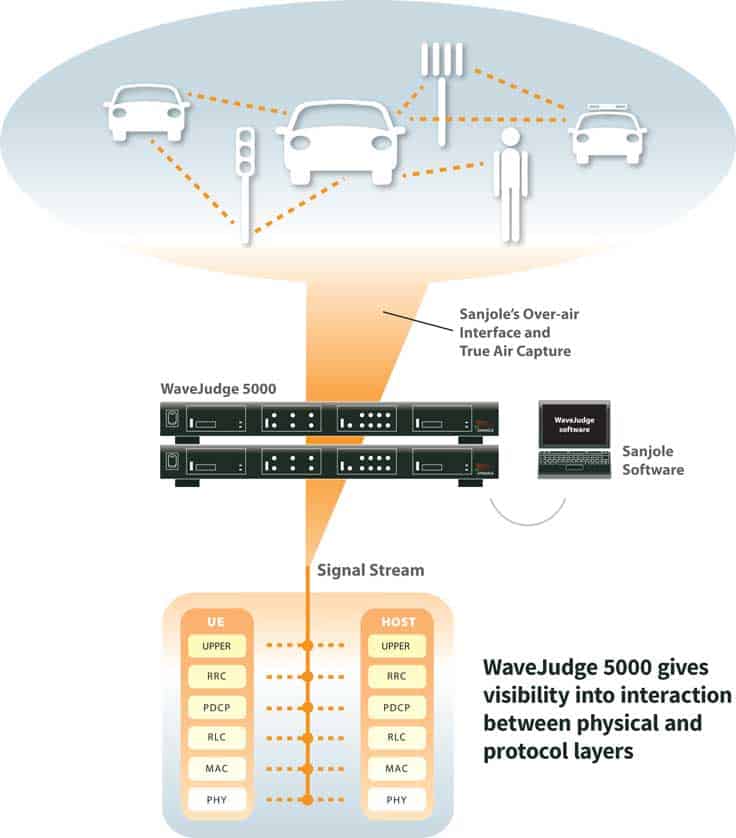 Benefits at a Glance
With the Sanjole WaveJudge 5000 and C-V2X Application you can
Achieve faster time to market using our industry proven test platform and state-of-the-art C-V2X modules
Understand the interactions between Vehicles at all layers
Analyze scheduling and interference management of V2V traffic
Evaluate conditions in mixed V2X environments (V2V,V2P and V2I) UE HOST
Test behavior and performance characteristics of networks resulting from the addition of V2X devices and data
Analyze the PHY layer early in development while maintaining same platform for upper layer correlation
Identify complex causes of interoperability problems
Improve the performance of the overall wireless connection
Verify network behavior from an over-the-air interface, including complex antennae and modulation schemes
Capture wireless conditions in the field for replay in the lab
Accurately identify anomalies that affect throughput and delay
Ensure upward compatibility with future C-V2X and 5G standards
Key Features and Test Capabilities
The WaveJudge C-V2X analyzer supports the following with more new features being added weekly to accommodate advancements in the standard.
Direct V2V, V2I, and V2P operating in ITS bands (e.g. ITS 5.9 GHz) independent of cellular network implemented over PC5 interface
Network V2N operation in traditional mobile broadband licensed spectrum implemented over Uu interface
Sub-6 GHz and mmWave (future) spectrums scalable for different bandwidths including 10/20 MHz bandwidth
Distributed and eNB scheduling support
Software defined radios to handle different PHY
Highly scalable platform for easy configuration of complex test cases
GNSS for time synchronization
Click to request the WaveJudge C-V2X analyzer brochure.
---
Related Information
The WaveJudge Wireless Test System
Testing LTE Technology
Testing 5G
Testing C-V2X
Testing WiMAX Technology